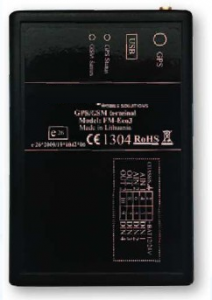 FM-Eco3-Glonass
GPS/GSM Terminal
Easy to use and functional
Equipment, which is most often used for the solving of simple monitoring tasks. It is popular all over the world owing to excellent build quality, tolerance to voltage jumps and flexibility of use with roaming. It supports 2 analogue sensors of fuel level, temperature, etc.

FUNCTIONS:

Location control
Tracing (draft) of the history of vehicle movement
Ignition control
Possibility of installation of emergency button
Detects drop of voltage in accumulator
Connection of temperature sensors
Detection of the doors' open/close status
Designated purpose:
Tracking movement of transport vehicle
Fuel level control
Terminal supplies the following data:
GPS coordinates, time, height above sea level
Strength of GSM signal
Number of available satellites
Voltage of booster battery
Status of discrete inputs and outputs
Voltage on analogue inputs
General advantages:
Developed and manufactured in the European Union
Failure rate of device (defective work) less than 0.2%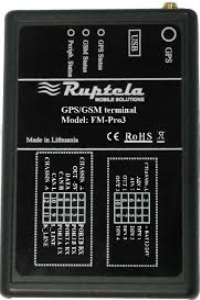 FM-Pro3-Glonass
GPS/GSM Terminal
Advanced transport monitoring
Top sales of the line of Ruptela equipment. Wide range of inputs and outputs allows using FM-Pro3 for solution of most difficult tasks. Support of FMS J1939 protocol allows readout from the onboard (trip) computers of tow trucks and other special vehicles. Equipment allows simultaneously connecting several digital fuel sensors or external display for communication with dispatcher and fuel level sensors. Interfaces RS232 and RS485 allow connecting up to 11 fuel sensors or other equipment.
FUNCTIONS:

Location control
Tracing (draft) of the history of vehicle movement
Readout of data from the onboard computer (fuel consumption, fuel level, mileage, etc.)
Ignition control
Driver identification using I-Button
Possibility of installation of emergency button
Detects drop of voltage in accumulator
Connection of temperature sensors
Detection of the doors' open/close status
Supports 11 digital sensors of fuel level
Designated purpose:
Tracking movement of transport vehicle
Fuel level control (detection of drainage)
Surveillance over the correct operation of transport vehicle
Terminal supplies the following data:
GPS coordinates, time, height above sea level
Strength of GSM signal
Number of available satellites
Voltage of internal battery and booster battery
Parameters of CAN bus (fuel consumption, fuel level in the fuel tank, mileage, engine rpm, speed, etc.)
Status of discrete inputs and outputs
Voltage on analogue inputs
Information from serial inputs
General advantages:

Developed and manufactured in the European Union
Failure rate of device (defective work) less than 0.2%