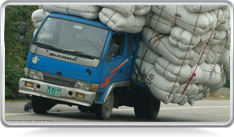 As a rule, fleet owners control fuel consumption and carry out vehicle monitoring.
Control of the weight of the transport cargo on a motor transport is applied rarer.
The results of the lack of such control are:
"moonlight" runs of drivers;
transportation of unaccounted goods;
penalties for the exceeding permissible maximum weight or axle load;
increased wear and even breakage of machine parts due to excess load.
All this directly hits the pocket of fleet owners.
We offer advanced solutions providing real-time control for loads carried – load weight control sensors.
Axle load sensor fixes and transmits information about the place and time of loading, unloading, driving with a partial load, movement of the truck without a trailer, and etc. on a real-time mode.